Royal London Etchells Youth Academy Prize Giving
The Royal London  Etchells Youth Academy prizegiving and drinks reception were hosted by the Royal London Yacht Club this weekend during the Etchells South Coast Championships.  
At the reception Commodore Martin Thomas gave newly-inducted sailors a hearty welcome.  This was followed by an insight into the rich history of the club and its significance as one of the major yacht clubs in Cowes.  
A program of training plus success in the Etchells Academy trials entitles teams access to racing in the active and welcoming Cowes fleet.  This includes the use of a competitive Etchells keelboat and a year's membership of the Royal London Yacht Club.  With the 2021 European Championships and 2022 World Championships scheduled in Cowes, these sailors have a real chance to make a mark on the fleet. 
The class Academy is generously supported by David Franks and the Royal London Yacht Club.  The class is also very fortunate to have David Bedford for coordinating the training and the coaches, Graham Sunderland and Karl Schafer for the maintenance and upkeep of the boats, and all its very supportive members.  The Etchells Academy can boast a wealth of successful sailors as alumni who have progressed to compete in the professional sailing scene.
For 2021, two new teams were granted a boat from the trials event in May, with a team from the Royal Thames Yacht Club, and two alumni outfits.  Teams were presented with new branded kit at the reception, so do keep an eye out for the sailors donning it!
Those teams are led by:
Ines Pont Sanchis, sailing Shamal
Will Birchall, sailing Sumo
Thea Crawshaw, sailing Ziggy
Jake Hardman, sailing Pulse
Sam Jones, sailing Mano
Congratulations to all teams for earning their spots, and wishing all sailors a successful season ahead!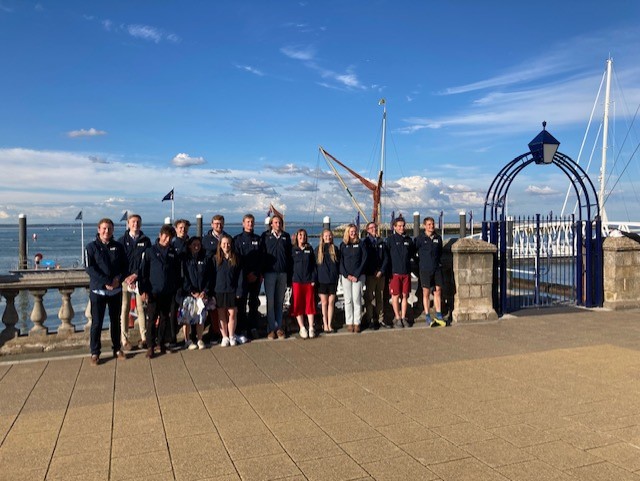 Drone image courtesy of PKC Media, Prize giving image taken by Rob Goddard