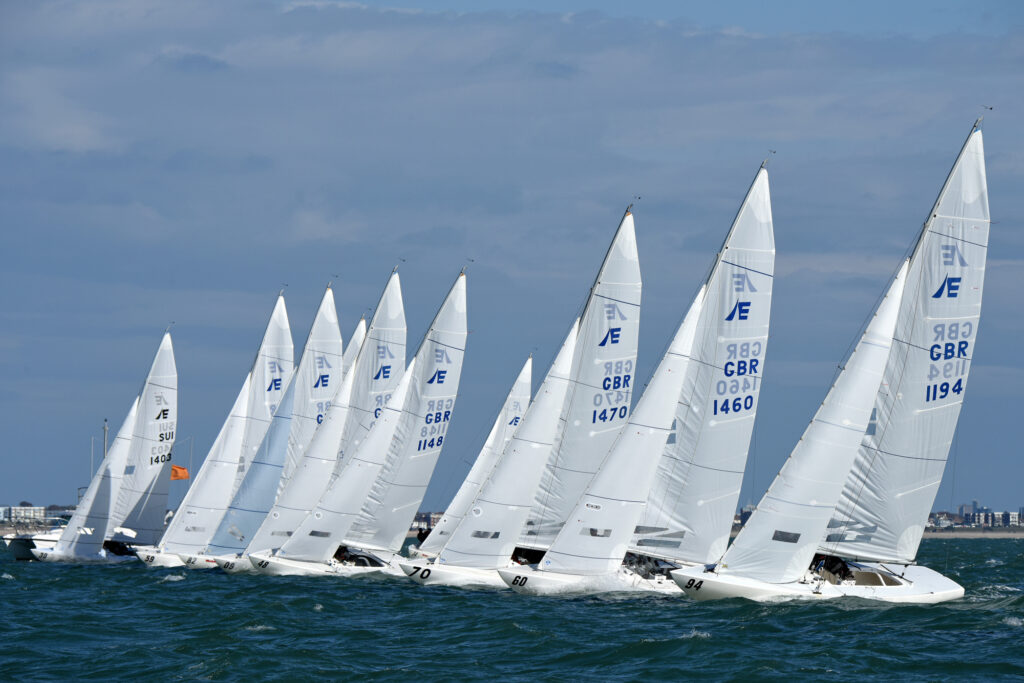 16 Etchells came to the line for the British National Championships on a cold blustery September day (26th and 27th) with the wind out of the north-west. Although fleet set out in only 14 or 15 knots of breeze the forecast was for something solidly in the mid-20s from the North and that's how it panned out. A building cold breeze but three very competitive races sailed.
Race one looked like it was heading in the direction of fleet captain David Franks (Graham Sunderland / Ryan Orr / Vita Heathcote) who sailed the first three shifts beautifully to lead. Heading right towards the shore every little header helped him and he led comfortably. Also on port early was class newcomer Malcolm Offord who despite it being only his 17th weekend steering a boat was comfortably holding third. The second beat saw the speed master coming to play however. Ante Razmilovic (Brian Hammersley / Andrew Mills) managed to get to the right of the pack, picked up a nice shift off the shore and with his heavy airspeed blew through into the lead. Malcolm Offord made a mess of one tack which ended up with him taking a backflip into the water (nil points for the dive) and that left James Howells (Charlie Cumbley / Jamie Lea) recently returned to the Etchells fleet (ten days ago!) close to the chocolates, just behind Dragon sailor Grant Gordon (Ruairidh Scott / Sophie Scott / James Williamson) making his first appearance in a chartered boat who took second. Rob Gullan put in an early pitch for the Corinthian title taking top slot in that group in fifth.
Race 2 started with more of the fleet wanting the right and lining up at the windward end of the start line to get it. David Franks came off the pin side of the fleet but unlike race 1, the gentle march of the breeze into the north meant that oscillations from the left were few and far between and he was never able to get back in contention. J70 World Champion Paul Ward got the right hand side of the course and with his American-style, traveller down and tight mainsail leech trim, was never headed. At the windward mark he could have got out of the cold beer (hot chocolate?) such was his lead. Howells took second, Grant Gordon another third with Razmilovic in fourth. The winners were winning big, able to get onto the lifted tack in each shift that much earlier than the pack and extending away.
For race 3 of day one the forecast increase in the breeze came to fruition with the peak gust of 27 kn from the north registered on Bramblemet. There aren't many faster Etchells in the world when it's windy than Razmilovic (still trimmed with his usual higher traveller and more twist than Ward was using) but on this occasion he was headed by James Howells, who was himself no slouch in the very windy Cowes Worlds of 2007 when he came fourth overall with David Bedford and Oscar Mead crewing.
Most encouraging for the fleet however was perhaps the 3rd place for Jon Warwick and his young team and 4th for Robby Boyd and his youth (under 25) team. Both did fantastically well, in properly hardcore conditions. A testament to the Royal London / David Franks youth academy program.
The end of day one therefore saw James Howells and Ante Razmilovic tied first on seven points and only Grant Gordon hanging on with nine. Paul Ward (Ben Saxton / Paul Childs) despite, his race win was carrying an 8 and an 11, David Franks had only added an eighth and 10 to his earlier second place which left the Corinthian team of Jon Warwick (Will Bedford / Fraser Woodley / Hannah Hunt) looking strong with consistent placing of 7, 5, 3.
Unluckiest crew on day one must have been Andrew Lawson (Hamish Mackay and William Russell) who having purchased GBR1409 on Friday and driven down from Glasgow for the weekend found themselves in a collision half way down the first run (not their fault) that led to their retirement from the race….. and from the rest of the day. A long drive for a short sail! Local class builder David Heritage worked his magic overnight and they were back out on Sunday.
The forecast for day two looked very windy in the morning but Predict Wind had a significant drop off from lunchtime and after a two-hour delay on the shore that is how it panned out. RO Peter Taylor from the Royal London YC sent the fleet set out at noon into a 23 knot northerly which was easing. The sun came out and it turned out to be a fantastic days racing.
Three boats were, in effect, in contention and in race 4 they all battled it out at the front. James Howells made it two race wins on the trot, with Grant Gordon in second, Paul Ward back on form for third whilst David Franks took fourth-place pushing Razmilovic into fifth. With the shortened day and only two races really likely to be on offer that effectively bought the championship down to a two-way scrap between Howells and Razmilovic. Howells only had to beat Razmilovic to seal his return to the fleet with a bang and the National Champions title.
As the four-minute signal sounded the breeze was definitely in a strong right-hand phase and according to the Graham Sunderland winning tides book the tide would have turned on the shore as well. That led to quite a lot of bunching at the committee boat with Grant Gordon's team winning it, standing on for 30 seconds before tacking. Behind that Malcolm Offord (Laurence Mead / Camilo Ordobo) was next on the port with Azat Ulutas (Seun Williams / Jesse Opokuware / Harry Blowers) from Greg City Academy also heading to the beach.
Graham Sunderland followed his own books advice and had David Franks joining this trio heading right whilst Howells and Razmilovic were further down the line having their own private battle. Both were lifted on starboard and hoping for an oscillation back to the left. With the tide creating an effective right-hand shift however that leftie never came and the four boats who had struck right early on we never headed. While Grant Gordon extended to one of the biggest leads your reporter has ever seen in the class the other three battled around for the podium, with Franks getting it on the finish line, 6 feet ahead of Malcolm Offord who was 12 feet on front of Azat Ulutas.
Howells crossed for sixth-place with Razmilovic in seventh, both using their discards which allowed Grant Gordon to leapfrog into second overall despite this being his first ever Etchells event. Showing how difficult consistency was in such a strong fleet, only the top three had all five results in single figures.
Corinthian National Champion was John Warwick and his young team in sixth while with their fantastic fourth in the last race Azat Ulutas took the youth prize at ninth overall, a truly great result for such a young team.
So ended the 2020 British Etchells National Championships, cold on day 1, warm on day 2 and red hot racing all weekend!
Results are available at https://yachtscoring.com/event_results_cumulative.cfm?eID=12901